1 Day to Go
I'm here in Vicenza, A little under 24 hours till the Italian StrongFirst Instructor Cert kicks off.
I am excited.
I've got a list of tips and also what to bring on game day for you.
Training over the last 2 weeks has been swings and presses or get-ups with the 28kg bell. Really easy.
I left the bell with my mate in Turin, he has a gym. No point me taking it any further.
The last week before the Cert is rest time. Maybe some movement flows, but if you haven't done the work now, then a week out won't make any difference.
We want to head into it fresh and ready. Unfortunately I had a cold/flu. My lungs are still congested but hey, we'll make it.
Shaun Cairns Master instructor arrived in Vicenza this afternoon. he is about 6km from where we are staying so we will probably catch up later today.
What to Bring:
Being prepared is essential. So, make sure you have these items ready. I'll throw in some tips later down the page,
2-3 T-shirts. Summer or winter you will sweat.
Deodorant. No explanation necessary …. please.
Snacks. Nuts, seeds, fruit easy to digest stuff that won't weigh you down.
Water. @ Mojo we supply water, but if you want other refreshments bring them along.
Food. Usually we go out for lunch, but if you want, bring your own and chill at the gym.
Medical tape. You might need it for your hands.They get ripped up. (see tips below next paragraph)
Rapigel (see pic) this stuff has saved many Certs. You are here for 30 + Hours. There will be pain. Animal treatment only? What? (I do not condone the use of animal products on humans) 🙂
A towel. No brainer.
An emery board (i.e. nail file) file off broken callouses before they rip off
Lots of energy and enthusiasm
These are the essentials. If you think of anything else. Bring it!
Tips:
Use chalk sparingly: Chalk creates friction and tears hands. I don't understand why guys keep going back to the chalk bowl and then complain their hands are ripped up.
Tape your hands for the snatch skills component: Save your hands for later.
Go at your own pace: During testing, go at a pace that is comfortable for you. You don't need to keep up with Speed McReed beside you. It's all about form. Except for the snatch test. There you need to move quickly, but still keep form. What I am saying is, "Don't rush your skills testing"
Chill: If you have done the work, then don't sweat. Just do what's gotta be done.
Parking: Important Friday park out on the street, Saturday + Sunday you can park inside the complex.
Are you ready? Sydney Cert is about 8 days away. WooooHoooo.
SIGN UP TO THE CERT HERE if you haven't already. If you don't feel ready, just remember you have 12 weeks after the cert to get across the line. We can help.
If you have any comments or questions, pop them below or email me directlyHERE
If I can help you with your training or you need info regarding workshops and Certs in Sydney, just let me know.
Slow n steady! Start easy, progress slowly.
If you like these posts, please comment, share them and get the word out.
Wish me luck. well… you don't need to, I've done the work, I am ready!
Thanks for reading.
Fix Your Weakness/es
There is no weakness in StrongFirst!
We have about 8 weeks to get it right for Sydney StrongFirst Kettlebell Instructor level 1 Certification.
It's time to look at where our weakness lies and what we need to work on and "Get Strong!"
Working on My Weakness.
First up, looking at the video, what do you "own" out of those 6 lifts? Which ones do you love doing?
What really needs work? Which ones do you avoid? Be honest with yourself.
Working on my weakness….. The press!
Shaun Cairns, Master SFG (who will also be assisting Master SFG Fabio Zonin on the Sydney Cert) pointed out I have long levers. This makes it more difficult for me to press than say someone with shorter levers, i.e. I have to press the weight further.
That's no excuse, it just means I need to work much harder, I have to "Attack" the lift more than someone with say "T-Rex arms"
Pavel said
To Press a lot, you need to press a lot.
So, my program has gone back to one of more pressing. I still hit all the lifts every week, but the press, needs the lions share of the work. The program CT (my coach) gave me is:
Warm up then Get Up Practice
Double Kettlebell Cleans + Double Squat + Double Press in ladders of 1 2 3 4 5 with 24kg (1 bell size up from my testing weight)
Swings or snatches for 10 x 10 EMOM.
On top of that I do 10 sets of 10 x 1 arm swings EMOM in 5 minutes or less. I do that every morning upon rising. That's an extra 700 swings every week with the 24kg bell.
Am I cert ready? Yeah, I can do the testing any day of the week.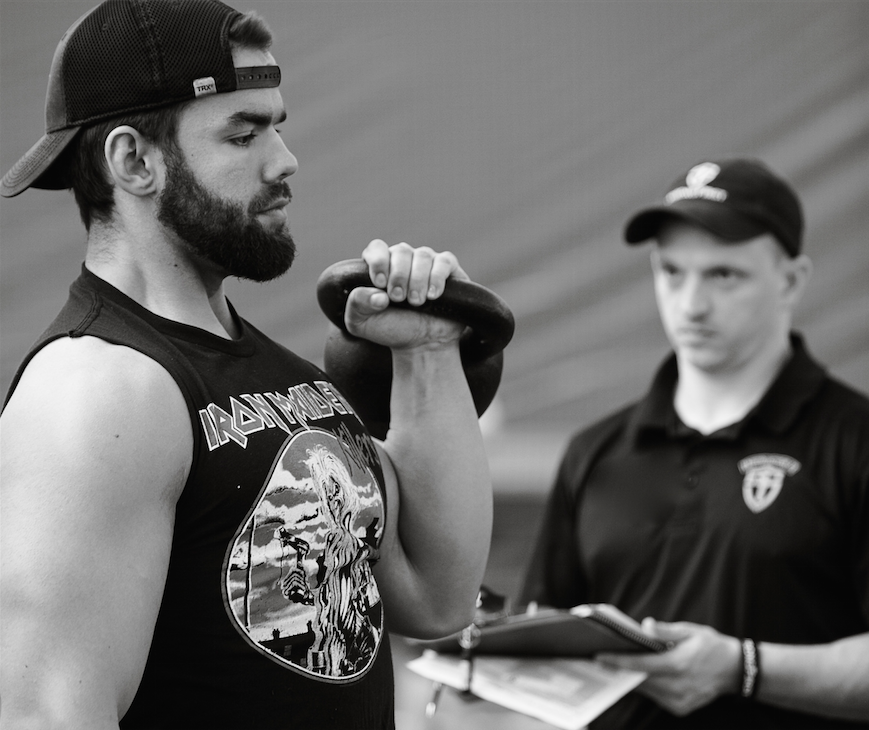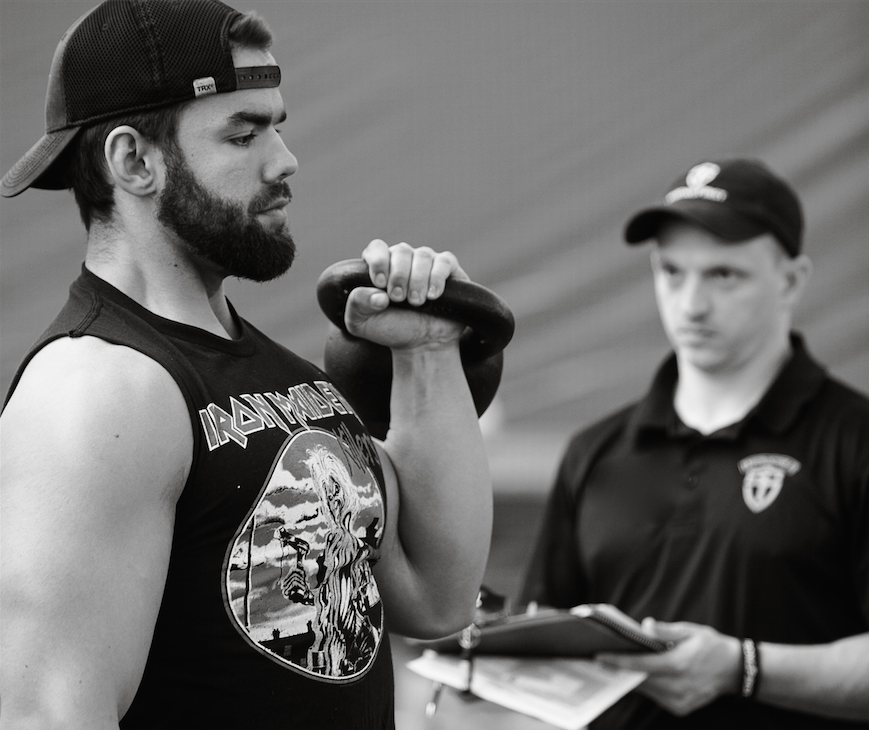 Am I ready for 30 hours of intense instruction and practice? I'm not so sure, I continue to improve all my lifts till "Game Day"
Your Weakness & What to Work On
Let's have a look at you. Honestly, what are you struggling with? The reason I ask is this:
We love to work on what we excel at
We tend to avoid the things we struggle with
We always do what we are strong at but…….
It's working on our weakness where we become unstoppable!
Bringing a weakness "up to par" will transfer to other lifts. Weaker muscles will improve and overall output will increase. e.g. Getting stronger in the Get Up will help the press.
So, if you, like me, struggle in say the press, then get pressing! Check the table below, see where you are at and have a cold hard look at what is required.
These requirements are new as of this year. The weights shown will be our testing weights.
2017 Weights
| | | | |
| --- | --- | --- | --- |
| | Weight | Kettlebell | Snatch Test |
| Men Open Class | Over 100kg/221lbs | 28kg | 100/5min |
| Men Open Class | Over 68kg/150lbs and below 100kg/221lbs | 24kg | 100/5min |
| Men Open Class | Up to 68kg/150lbs | 20kg | 100/5min |
| Men Masters | (50-64 years old) | 20kg | 100/5min |
| Men Seniors | (65+ years old) | 20kg | 50/3min |
| Women Open Class | Up to 59kg/130lbs | 12kg | 100/5min |
| Women Open Class | Over 59kg/130lbs | 16kg | 100/5min |
| Women Masters | (50-64 years old) | 12kg | 100/5min |
| Women Seniors | (65+ years old) | 12kg | 50/3min |
I know, you might be saying to yourself "There's no way I'm going to be ready" please remember, we have 12 weeks after the StrongFirst Kettlebell Instructor level 1 Certification to get over the line. So, that's about 20 total weeks as of writing!
How to Fix Weakness
Get onto a qualified StrongFirst Instructor HERE. This is my StrongFirst Profile and you can start your search from there.
Have your coach evaluate your lifts and help you improve them. Your coach will be able to map out a program that will get you "Cert Ready"
You just need to do the work, we can't do that for you.
WHAT NOW?
If you haven't signed up yet….GET ON IT! StrongFirst Kettlebell Instructor level 1 Certification.
Get onto the instructor page HERE and get the help you need.

Do the work.
If you have any comments or questions, pop them below or email me directlyHERE
If I can help you with your training or you need info regarding workshops and Certs in Sydney, just let me know.
Slow n steady! Start easy, progress slowly.
If you like these posts, please share them, get the word out.
Thanks for reading.
KETTLEBELL SNATCH PRACTICE
The video above is about swings, not snatches…..why?
Well, first off, the problem of a sore lower back due to incorrect SWING technique is rampant and therefore needs to be addressed before even considerring the snatch. Besides…..
The snatch is a swing that finishes in the overhead position, so you best have a strong swing
We are 9 weeks out from the StrongFirst Instructor Certification in Sydney. (June 16-18 2017) and I am 8 weeks out from my Cert in Italy. (June 9-11 2017)
My snatch practice has been made up of the following.
10 x 10 1 arm swings every morning upon awakening 24kg bell. 4.00am for me Coogee beach 7 days a week. I get that done in 5 minutes or less. (note I am a "master" athlete so my testing bell is 20kgs)
7+7 x 10 snatches 24kg bell every minute on the minute (EMOM) 7 left + 7 right, rest remainder of minute. I do these twice a week. Wednesday and Saturday. Easy.
10 x 10 2 arm swings 36kg bell EMOM Monday and Friday.
I know, that 100 snatches with 20kg kettlebell in 5 minutes will be easy on game day following this protocol simply because.
I use a bell, 1 size up from my test weight for my snatch practice.
I develop endurance in the hips with the 24kg swings every morning.
I develop strength with the 36kg kettlebell swings.
It's simple. This whole process has been simple.
Go back through weeks 1 to today. Nothing special, nothing complicated. Just practice and consistency. I started with 32kg 2 arm swings on week 1 after not swinging for months, and they were hard! Consistency has brought me to easy 32kg 1 arm swings, easy 36kg 2 arm swings. Very easy 24kg 1 arm swings and easy 7 + 7 24kg snatches.

I will build the snatches up to 8 + 8 over the next few weeks. Then I will do some 28kg snatches for 4 + 4. Again, they will be relatively easy.
The whole essence of this entire series is to rock up to the StrongFirst Instructor Certificate in top shape. No injuries, No burn out. Roaring and ready to go. That's it. If I can do that, mission accomplished. Stick with me for these last weeks.
Need Help?
If you have signed up and need some help with your preparation, get onto a qualified coach. Head on over to the StrongFirst Instructor List HERE.
If you haven't signed up….WHAT ARE YOU WAITING FOR? Time is ticking!!! Get onto it!!
If you have any comments or questions, pop them below or email me directlyHERE
If I can help you with your training or you need info regarding workshops and Certs in Sydney, just let me know.
Slow n steady! Start easy, progress slowly.
If you like these posts, please share them, get the word out.
Thanks for reading.
School of Strength
StrongFirst is a school of strength. Mojo Strength is a school of strength.
I am a student of strength.
I am switching places from Coach to Student and will be learning for 8 hours this Sunday at the workshop. This is NOT the "Cert" This is the STRONGFIRST WORKSHOP This will be my 6th workshop! Everytime I do this workshop as a student or a coach, I learn more or consolidate. There is always that "Ahaa!" moment.
What do we do at this workshop?
4 Exercises: Swing, Goblet Squat, Get Up and Press. They will be pulled apart and re-built over 8 hours. This is In-Depth Coaching from the industry's best.
It's what StrongFirst Stands for: Quality!
Search for a coach, sign up for a workshop. Always strive to improve. never be complacent. – Peter Bolsius SFG1
Rite of Passage:
CT, my coach, hasn't been with me while I practiced these last few times. Mmmmmm was that a mistake? I may have pushed the envelope a little.
As you know, I've been following my version of 'Rite of Passage" by Pavel, We've adjusted it to what we want to achieve. i.e. Arrive strong and fit for the StrongFirst Instructor's Certificate in June
I warm-up with Get ups. I do: (each side) 1 x naked (no weight) 1 x 12kg, 1 x 16kg, 1 x 20kg, 1 x 24kg, and finish with 1 x

28kg ea. side. (that's my re-cert weight) I'll stick with that till 28 is so easy, I can just step up to the 32kg. (remember, 16 weeks to go.) I hit 1 arm clean and presses with the 24kg + pull-ups after that.
Last week I started with: Ladders of 1-2-3 x 5. Easy. Then, ladders of 1-2-3-4 x 5 still easy. Monday, I felt strong and hit ladders of 1-2-3-4-5 x 5! That may have been a mistake. 33% increase on the previous practice session. That's a 150 total C+Ps and 75 Pull-ups if my math serves me well. Too much too soon. In hindsight, I should have added 1 or 2 sets of 5 then another couple till I hit all 5 sets. I was a bit sore I must say. "Ache…y" would be a better word. (Is that a word?) So, what to do? I want to be fresh for the workshop on Sunday.
Yesterday (Wednesday) I did,
C+P & Pull-up ladders going back to 1-2-3 x 5 protocol (60 total C+P 30 total Pull-ups)
Swings 24kg, 1 arm: 5 + 5 x 10 EMOM. That was easy.
Then, I jumped in with a group at the gym I was coaching and did 15 sets x 10 of 2 arm swings with a 28kg (easy) and push-ups, bear crawls, goblet squats etc. Not hard. Got my heart rate up again and more blood running around the body. Friday will be something similar.
Nice n Easy. Today, I feel strong!!
Monday, after the workshop, I'll repeat that again. That will put me back into the cycle.
The cycle will look like this:
Monday: Ladders 1-2-3 x 5, Wednesday ladders 1-2-3-4 x 5, Friday, ladders 1-2-3-4-5 x 5 with swings or snatches for 10 minutes EMOM (Every Minute On the Minute) and the Get-ups as warm-up.
I'll repeat that for the next few weeks. Working on form and increasing my swing and snatch numbers. i.e. 5 reps to 6 reps each side, then 7 reps etc.
On my "Off days" 2 arm swings 10 x 10 EMOM with 36kg or 40kg, Get-up practice as above, and Goblet squats or 1 arm squats, sets of 5. Throw in 10-15 minutes of "Cook Carries Video HERE." That's plenty. Again, easy practice.
Join me and see what it is about.
What is this Workshop? See HERE
SIGN UP for the Workshop HERE $299 AU. Last Chance! 8 hours of world class coaching.
If you have any comments or questions, pop them below or email me directly HERE
If I can help you with your training or you need info regarding workshops and Certs, just let me know.
Slow n steady! Start easy, progress slowly.
If you like these posts, please share them, get the word out.
Thanks for reading.
Peter Bolsius SFG1
Owner & Founder Mojo Strength Sydney
HOLY SHIT!!

The feeling you get when you sign up to the StrongFirst Instructor Cert.!
IT'S ON!
Pushing that button changes everything!
It is amazing how everything just changes as soon as you sign up. I can't describe it. I was talking to my good friend and fellow SFG instructor Garry Robinson the other day about this. We both had exactly the same reaction when we signed up.
FAAAAAR OUT!….IT'S ON! No Turning Back!
It gives you purpose, eliminates the excuses! It's ON! You know what needs to be done. You do it.
Your training is deliberate, it has purpose.
If you are serious about doing the cert….change it from talk to walk!
Sign up as early as possible to get that "IT'S ON!" feeling.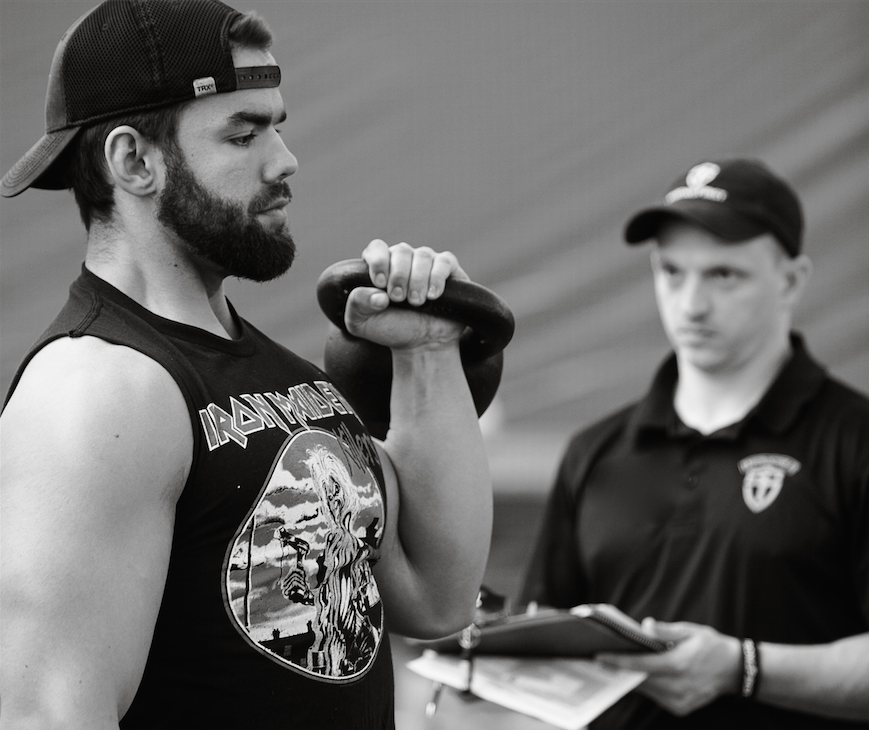 I can't think of another moment in time when I had so much purpose to my training.
Do you want to be the best fitness instructor you can be? Do you want to be the best kettlebell athlete you can be?
My question: "How much do you want it?"
I don't normally post this stuff on my blog, but today is different. A Facebook post won't do. I want to explain what it takes for fitness instructors like you to successfully complete the StrongFirst Instructor Certificate.
Listen Up, Would Be Fitness Instructor: The StrongFirst Instructors Certificate is Coming to Hillsdale
Last week we got confirmation that Mojo Strength & Sydney Kettlebell Club will be hosting The StrongFirst Instructor Certificate near Hillsdale, June 17-18-19.
I can't begin to describe how excited I am about having the honour of assisting on this.
My Advice to a Budding StrongFirst Fitness Instructor…
LISTEN REALLY CAREFULLY… If you are considering signing up, you better be convinced that you want to do this… And you better be committed!
This is NOT one of those fitness instructor certificates where you pay your money, rock up and get your certificate at the end. This is "The Main Event!": You EARN it, you can't buy it.
Imagine this: A training practice session that lasts 30 hours, over 3 consecutive days. Imagine doing the 10,000 swing challenge in only 3 days! (We didn't do 10,000 – but hell it sure did feel like it) then doing hundreds of squats, hundreds of snatches, loads of TGUs, more swings, cleans, presses more swings, more cleans, more presses, more squats and throw some swings in there too… Plus finish with the 100 rep 5 minute snatch test!
Imagine not sleeping because you know what's coming the next day. That's what it's like guys. This is a REAL fitness instructor certificate.
This is HARD WORK!
Don't Be Scared, Just Come Prepared
I am not saying this because I want to scare you out of doing it, hell, I can't encourage you enough! I say this because I want you to take it with the level of seriousness it needs.
If you were taking part in the "Main Event" in Las Vegas, you would take it seriously. You wouldn't train for a mud run while prepping for a major fight, would you?
Well, you don't do a "hypertrophy program" or a "Slimming & Toning Program" while prepping for the cert either! It's the "Main Event".
If you want to be a serious fitness instructor then you need to take your certificates seriously! Nothing else should be on your mind training wise other than your cert!
Practice Makes Perfect
6 exercises: Swing, Squat, Clean, Press, TGU, Snatch. All done perfectly
So, what does perfectly mean?
Let's take the Turkish Get Up for example. If your shoulder shrugs up towards your ear… You fail! If your elbow bends just that little bit (not locked out)… You fail! If your wrist is not "neutral" (straight) during any portion of the movement… You fail.
These are only some of the standards of one lift, which all StrongFirst fitness instructors are expected to understand… Only five more to go! Oh and a snatch test! Did I mention the snatch test?
Below I explain the common mistakes you will need to avoid for the Kettlebell setup if you hope to become a certified StrongFirst fitness instructor, feel free to drop me a line if you need any more tips:
Failure Will Still Make You a Better Fitness Instructor
I know all about it. I failed. On 2 standards I failed. 4 months of prep, 30 hours of Cert…… Fail. FAIL!!
I was devastated! Devastated!
I had to re-submit videos, and it took 3 submissions before I passed. After failing 2 submissions, I sought some very good help from my dear friend Garry Robinson SFG and he helped me across the line with his fitness instructor coaching!
Finally, I was an SFG Fitness Instructor!
I screamed and jumped around like a little kid that got his first bicycle!! WOOO HOOO
I still get joy out of just thinking about it. Now, I try and seize every possible opportunity to learn from these guys. Shaun Cairns Master SFG & Tim Almond Team Leader.
If You Want to be a Great Fitness Instructor Then Start Prepping Now
This Cert changes you – I am a better fitness instructor for it. I am pleased I failed! It made me appreciate excellence.
Excellence is required to pass and you now expect excellence. Most of all, you expect it from yourself and now also from your clients.
The, "that's pretty good, it'll do", attitude does not exist. You start picking up on all the things that make your athlete better!
I cannot recommend doing this cert highly enough. It's the best. I've been in a fitness instructor for nearly 30 years and can safely say it's the best!
Go! Challenge Yourself. Be the best you can be.
Looking for a Certified StrongFirst Fitness Instructor In Hillsdale?
If you need help training to become a better fitness instructor before your next certificate then contact the team at Mojo Strength. 
We help people move well, lift heavy, be awesome.
Perfect for those that live locally, including those in Mascot.
Thanks for reading.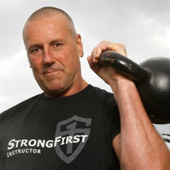 Peter Bolsius SFG1
Owner & Founder Mojo Strength Sydney & The Alpha Project
Thanks for reading.