A change in mind frame you can improve your strength training workout. If you keep looking and comparing your own body to someone else, you are setting yourself up for failure. Period!
We are so body conscious. Yes – I am very guilty of it too. However, as I've aged I'm more concerned with my performance than what I look like. Don't get me wrong, I still want to be proud to take off my shirt, who doesn't? But this shouldn't be what it's about.
Strength Training Instructors Should Teach Performance Based Mentality
If you complete strength training workouts with a performance based mentality, you will be much less frustrated and much happier. Why? Because performance is concrete! It's easily measurable.
If you did 5 reps with 100kgs last week and 6 reps this week, then that's progress. If you are pressing 24kg kettlebells this month and were pressing 20s last month, that's progress.
Comparing Progress in Strength Training Programs
For professional strength trainers, it's about performance – not someone else's body!
If Jennifer's butt looks great this month and yours doesn't look the same,
what was it like last month? How do you compare?
If Dave's arms are ripping his shirt and yours aren't, what are your arms like compared to his last week? What are his like compared to yours last week?
If a guy coach can do 5 sets of 10 dips with bodyweight this week and in 6 months he works up to doing 5 sets of 10 with a 24kg kettlebell hanging from his waist through a strength training program, his upper body will be bigger and harder. There's no doubt.
If a lady I am coaching can swing a 12kg kettlebell for sets of 10 this week and in 6 months she can swing a 24kg kettlebell for the same reps through strength training progress, her butt will be much tighter and harder. Make sense?

However, if you swing a 12 kg kettlebell this week and in 6 months you are still swinging a 12 kg kettlebell, what do you really think is going to happen? Not much!
Set Realistic and Measurable Strength Training Goals
Here's one: If you want to lose your "Tuckshop arms" get really good at Push-ups. I mean "Really good!" Go from 5 reps to 50. If you can get 50 good, proper, full-body push-ups, then "Tuckshop arms" won't be a problem. Do you have any questions?
You can't get better at every training session, but you can improve on every cycle. That's comparable, that's concrete.
Looking for Strength Training with REAL results In Woolgoolga?
If you need help setting and achieving your goals contact the team at Mojo Strength. 
We help people move well, lift heavy, be awesome.
Perfect for those that live locally, including those in Woolgoolga.
Thanks for reading.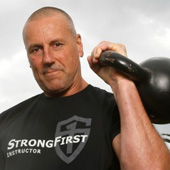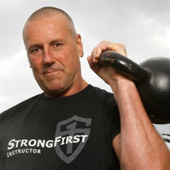 Peter Bolsius SFG1
Owner & Founder Mojo Strength.
Do you want to look great? Let me show you how you can achieve it with some simple changes to your strength training program.
This is what I tell the guys when they come to my gym near Maroubra:
Stop thinking about weight loss, fat loss and all that other shit.
This is what you need to concentrate on…
Women's simple strength training program
Get to a deadlift 1.25 x your bodyweight for 3 strict reps.
Example: if you weigh say, 65kg B/W, that would equate to 65kg x 1.25 = 82kg deadlift x 3 strict perfect reps. This is key to any solid strength training workout!
Do 15 super strict, Mojo style, push-ups. Watch my tutorial below explaining the perfect technique for push-ups that we teach at Mojo Strength:
Do 3 x un-assisted bodyweight pull-ups.
Swing a 32kg kettlebell for 10 solid reps
Men's simple strength training program
Deadlift 1.75 bodyweight for 3 strict reps. e.g. 85kg B/W x 1.75 = 148kgs x 3
Press double Kettlebells of 1/3 bodyweight overhead. Do I need to say it? STRICT!!
Do 15 Strict un-assisted Tactical Pull-ups.
Snatch a 24kg kettlebell for 100 solid reps in 5 minutes or less
Again, these should all be staples for any worthwhile strength training plan, if you want to see results.
These strength training exercises will help you reach your goals
If you put all your effort in reaching these goals, you will look good!
All the girls at Mojo Strength that can do that have NO weight issues. NONE! Guys who can do that are solid, strong, and well built.
You see when you concentrate on achieving these strength training goals instead of your weight, or how "fat" you might be, you start chasing something different. Strength and fitness!
Question: How many strong and fit people do you know who are overweight? Unless they are in the heavyweight division of an olympic team… none! They are jacked!
Focus on the important things and forget about your weight!
This isn't going to happen overnight and you still need to be aware of what you eat. But, if you concentrate on getting stronger, being able to lift more and able to do more, then everything else is easy. Spend the next 6 months just chasing these goals through your strength training. Be relentless in achieving them and I guarantee you will have totally transformed! 
Looking for a strength training class that will help you see REAL results in Maroubra?
If you need help setting and achieving your goals contact the team at Mojo Strength. 
We help people move well, lift heavy, be awesome.
Perfect for those that live locally, including those in Maroubra.
Thanks for reading.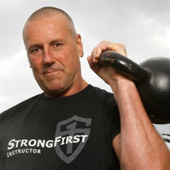 Peter Bolsius SFG1
Owner & Founder Mojo Strength Sydney & The Alpha Project