Fix Your Weakness/es
There is no weakness in StrongFirst!
We have about 8 weeks to get it right for Sydney StrongFirst Kettlebell Instructor level 1 Certification.
It's time to look at where our weakness lies and what we need to work on and "Get Strong!"
Working on My Weakness.
First up, looking at the video, what do you "own" out of those 6 lifts? Which ones do you love doing?
What really needs work? Which ones do you avoid? Be honest with yourself.
Working on my weakness….. The press!
Shaun Cairns, Master SFG (who will also be assisting Master SFG Fabio Zonin on the Sydney Cert) pointed out I have long levers. This makes it more difficult for me to press than say someone with shorter levers, i.e. I have to press the weight further.
That's no excuse, it just means I need to work much harder, I have to "Attack" the lift more than someone with say "T-Rex arms"
Pavel said
To Press a lot, you need to press a lot.
So, my program has gone back to one of more pressing. I still hit all the lifts every week, but the press, needs the lions share of the work. The program CT (my coach) gave me is:
Warm up then Get Up Practice
Double Kettlebell Cleans + Double Squat + Double Press in ladders of 1 2 3 4 5 with 24kg (1 bell size up from my testing weight)
Swings or snatches for 10 x 10 EMOM.
On top of that I do 10 sets of 10 x 1 arm swings EMOM in 5 minutes or less. I do that every morning upon rising. That's an extra 700 swings every week with the 24kg bell.
Am I cert ready? Yeah, I can do the testing any day of the week.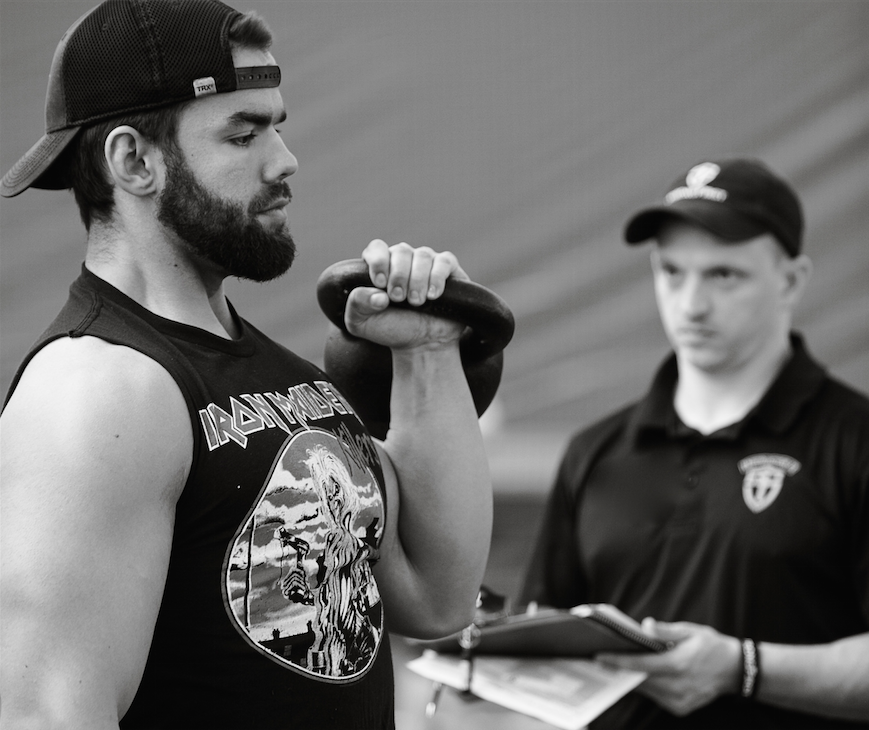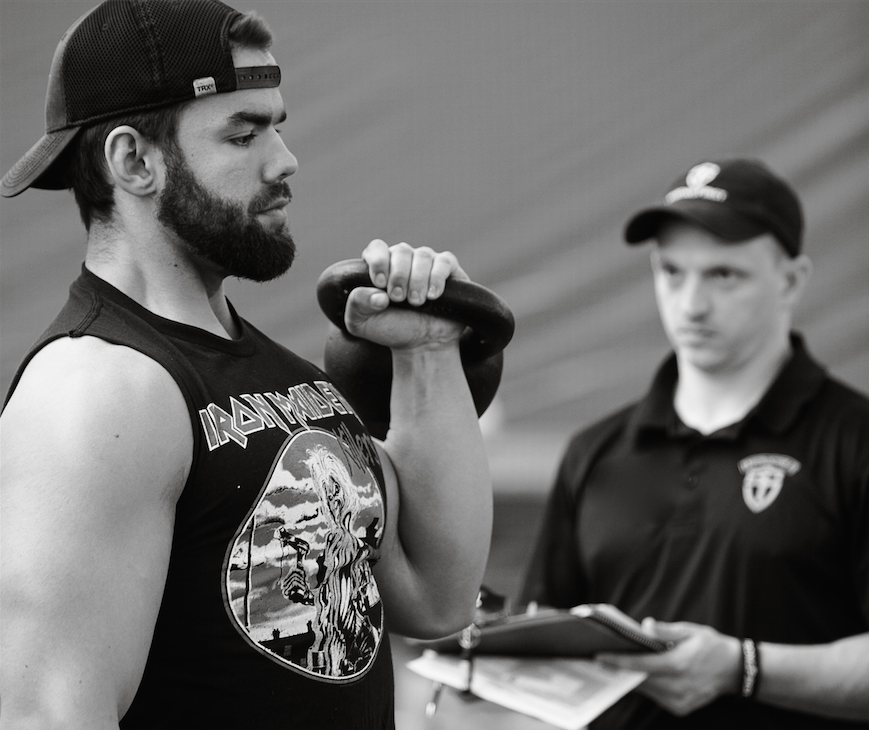 Am I ready for 30 hours of intense instruction and practice? I'm not so sure, I continue to improve all my lifts till "Game Day"
Your Weakness & What to Work On
Let's have a look at you. Honestly, what are you struggling with? The reason I ask is this:
We love to work on what we excel at
We tend to avoid the things we struggle with
We always do what we are strong at but…….
It's working on our weakness where we become unstoppable!
Bringing a weakness "up to par" will transfer to other lifts. Weaker muscles will improve and overall output will increase. e.g. Getting stronger in the Get Up will help the press.
So, if you, like me, struggle in say the press, then get pressing! Check the table below, see where you are at and have a cold hard look at what is required.
These requirements are new as of this year. The weights shown will be our testing weights.
2017 Weights
| | | | |
| --- | --- | --- | --- |
| | Weight | Kettlebell | Snatch Test |
| Men Open Class | Over 100kg/221lbs | 28kg | 100/5min |
| Men Open Class | Over 68kg/150lbs and below 100kg/221lbs | 24kg | 100/5min |
| Men Open Class | Up to 68kg/150lbs | 20kg | 100/5min |
| Men Masters | (50-64 years old) | 20kg | 100/5min |
| Men Seniors | (65+ years old) | 20kg | 50/3min |
| Women Open Class | Up to 59kg/130lbs | 12kg | 100/5min |
| Women Open Class | Over 59kg/130lbs | 16kg | 100/5min |
| Women Masters | (50-64 years old) | 12kg | 100/5min |
| Women Seniors | (65+ years old) | 12kg | 50/3min |
I know, you might be saying to yourself "There's no way I'm going to be ready" please remember, we have 12 weeks after the StrongFirst Kettlebell Instructor level 1 Certification to get over the line. So, that's about 20 total weeks as of writing!
How to Fix Weakness
Get onto a qualified StrongFirst Instructor HERE. This is my StrongFirst Profile and you can start your search from there.
Have your coach evaluate your lifts and help you improve them. Your coach will be able to map out a program that will get you "Cert Ready"
You just need to do the work, we can't do that for you.
WHAT NOW?
If you haven't signed up yet….GET ON IT! StrongFirst Kettlebell Instructor level 1 Certification.
Get onto the instructor page HERE and get the help you need.

Do the work.
If you have any comments or questions, pop them below or email me directlyHERE
If I can help you with your training or you need info regarding workshops and Certs in Sydney, just let me know.
Slow n steady! Start easy, progress slowly.
If you like these posts, please share them, get the word out.
Thanks for reading.