Do you want to be the best fitness instructor you can be? Do you want to be the best kettlebell athlete you can be?
My question: "How much do you want it?"
I don't normally post this stuff on my blog, but today is different. A Facebook post won't do. I want to explain what it takes for fitness instructors like you to successfully complete the StrongFirst Instructor Certificate.
Listen Up, Would Be Fitness Instructor: The StrongFirst Instructors Certificate is Coming to Hillsdale
Last week we got confirmation that Mojo Strength & Sydney Kettlebell Club will be hosting The StrongFirst Instructor Certificate near Hillsdale, June 17-18-19.
I can't begin to describe how excited I am about having the honour of assisting on this.
My Advice to a Budding StrongFirst Fitness Instructor…
LISTEN REALLY CAREFULLY… If you are considering signing up, you better be convinced that you want to do this… And you better be committed!
This is NOT one of those fitness instructor certificates where you pay your money, rock up and get your certificate at the end. This is "The Main Event!": You EARN it, you can't buy it.
Imagine this: A training practice session that lasts 30 hours, over 3 consecutive days. Imagine doing the 10,000 swing challenge in only 3 days! (We didn't do 10,000 – but hell it sure did feel like it) then doing hundreds of squats, hundreds of snatches, loads of TGUs, more swings, cleans, presses more swings, more cleans, more presses, more squats and throw some swings in there too… Plus finish with the 100 rep 5 minute snatch test!
Imagine not sleeping because you know what's coming the next day. That's what it's like guys. This is a REAL fitness instructor certificate.
This is HARD WORK!
Don't Be Scared, Just Come Prepared
I am not saying this because I want to scare you out of doing it, hell, I can't encourage you enough! I say this because I want you to take it with the level of seriousness it needs.
If you were taking part in the "Main Event" in Las Vegas, you would take it seriously. You wouldn't train for a mud run while prepping for a major fight, would you?
Well, you don't do a "hypertrophy program" or a "Slimming & Toning Program" while prepping for the cert either! It's the "Main Event".
If you want to be a serious fitness instructor then you need to take your certificates seriously! Nothing else should be on your mind training wise other than your cert!
Practice Makes Perfect
6 exercises: Swing, Squat, Clean, Press, TGU, Snatch. All done perfectly
So, what does perfectly mean?
Let's take the Turkish Get Up for example. If your shoulder shrugs up towards your ear… You fail! If your elbow bends just that little bit (not locked out)… You fail! If your wrist is not "neutral" (straight) during any portion of the movement… You fail.
These are only some of the standards of one lift, which all StrongFirst fitness instructors are expected to understand… Only five more to go! Oh and a snatch test! Did I mention the snatch test?
Below I explain the common mistakes you will need to avoid for the Kettlebell setup if you hope to become a certified StrongFirst fitness instructor, feel free to drop me a line if you need any more tips:
Failure Will Still Make You a Better Fitness Instructor
I know all about it. I failed. On 2 standards I failed. 4 months of prep, 30 hours of Cert…… Fail. FAIL!!
I was devastated! Devastated!
I had to re-submit videos, and it took 3 submissions before I passed. After failing 2 submissions, I sought some very good help from my dear friend Garry Robinson SFG and he helped me across the line with his fitness instructor coaching!
Finally, I was an SFG Fitness Instructor!
I screamed and jumped around like a little kid that got his first bicycle!! WOOO HOOO
I still get joy out of just thinking about it. Now, I try and seize every possible opportunity to learn from these guys. Shaun Cairns Master SFG & Tim Almond Team Leader.
If You Want to be a Great Fitness Instructor Then Start Prepping Now
This Cert changes you – I am a better fitness instructor for it. I am pleased I failed! It made me appreciate excellence.
Excellence is required to pass and you now expect excellence. Most of all, you expect it from yourself and now also from your clients.
The, "that's pretty good, it'll do", attitude does not exist. You start picking up on all the things that make your athlete better!
I cannot recommend doing this cert highly enough. It's the best. I've been in a fitness instructor for nearly 30 years and can safely say it's the best!
Go! Challenge Yourself. Be the best you can be.
Looking for a Certified StrongFirst Fitness Instructor In Hillsdale?
If you need help training to become a better fitness instructor before your next certificate then contact the team at Mojo Strength. 
We help people move well, lift heavy, be awesome.
Perfect for those that live locally, including those in Mascot.
Thanks for reading.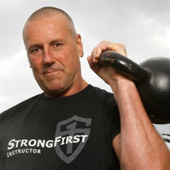 Peter Bolsius SFG1
Owner & Founder Mojo Strength Sydney & The Alpha Project
Thanks for reading.