This  question was posed to us by StrongFirst master instructor Shaun Cairns at the recent Brisbane StrongFirst Kettlebell Certification regarding strength training.
Do you think changing your training plan every week will improve your results? What if I told you doing so will do more harm then good. I'll show you the way to hit your strength goals without the unnecessary confusion.
Strength in Numbers, Not in Variety of Exercise
Constantly changing exercises can give the illusion of progress but in reality it's not giving you anything but variety. The need to "keep confusing the muscles" with variety is just plain nonsense.
Muscles don't have brains so how the hell can we confuse them?  If variety is what is needed to make a muscle stronger then, try varying the volume and/or the weight.
Strength Practise Makes Perfect
Strength is a skill! If you keep chopping and changing exercises all the time, you will never really learn it well enough to get really strong in it. However, a little variety for sanity can be a good thing.
So, how do we mix this?
This is what we do at Mojo Strength:
Pick 4-5 basic exercises;

Squat

Deadlift

Vertical Push

Horizontal Push

Pull-up
These are our five. You will always find a variation of those in our strength programs. Which variation depends on the level of the athlete. These are a mainstay.
Then we add some variety in the assistance work that goes with them. That way, we can keep getting stronger over a period of time in these basic movements but are also be able to add a little variety for sanity's sake.
Strength Training Cycles
For the Alpha Male project near Malabar, we work in 3 week cycles adding weight or reps to these basic exercises. We do some assistance work for them and that's our basic program.
On week 4 we de-load (have a lighter week) to give ourselves some well rest.  Continuing in week 5 we start the cycle again a little higher than where we started the last cycle for our basic lifts. From here we change up the assistance work a little and go again.
We get consistency in 5 big lifts and variety in the assistance work that goes with them.
Instead of variety for variety's sake, commit to getting strong on the basics and add a little variety on the side.
Looking for Personal Training with REAL results In Malabar?
If you need help setting and achieving your goals contact the team at Mojo Strength. 
We help people move well, lift heavy, be awesome.
Perfect for those that live locally, including those in Malabar.
Thanks for reading.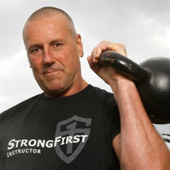 Peter Bolsius SFG1
Owner & Founder Mojo Strength Sydney & The Alpha Project
More Information About Do You Want to Increase Your Strength or Do You Want to be Entertained?
For more information about Do You Want to Increase Your Strength or Do You Want to be Entertained?, or any other fitness related questions you might have please get in touch.